Renovate Your Bathroom to Improve Accessibility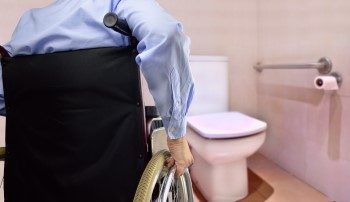 If you're planning bathroom remodeling renovations to increase accessibility and mobility in your Cherry Hill home, contact a reputable remodeling contractor like William and Son Remodeling for professional expertise and excellent service. Our skilled remodelers will help you customize your bathroom according to your requirements and preferences.
Key Features of Handicapped Bathrooms
Toilets – To accommodate a wheelchair, the space around a toilet should be at least 30 by 48 inches. Your remodeling contractor may suggest installing two support bars 36 inches apart on both sides of your toilet. The toilet seat must have a height of 17 to 19 inches above the floor, and the flush lever should be installed no higher than 44 inches above the floor on the side of the toilet with the clearest floor space.
Sinks – Clearance of at least 27 inches beneath the bathroom sink should be created to accommodate a wheelchair, and the top of the sink should be 32 to 34 inches above the floor.
Showers – If you want to alter your shower to make it more accessible, your remodeling contractor can install a curbless shower stall that is 5 feet wide by 3 feet deep. The shower floor should also be sloped toward the drain. An inexpensive alternative to a curbless and sloped shower is to install a seat in your current shower. New showers can also be customized with built-in benches or seats. Showers should also be equipped with a handheld shower head with a 60-inch hose.
Grab Bars – Towel bars shouldn't be used as grab bars, so installing grab bars near bathtubs, showers, and toilets is often a part of handicapped bathroom remodeling. Grab bars must be smooth and anchored securely. They should be 1.25 to 1.5 inches in diameter, and must be placed between 34 and 38 inches above the floor. Grab bars shouldn't have any exposed ends, and there should be a space of at least 1.5 inches between the bar and the wall. Grab bars are available in a variety of colors, styles, and finishes.
Light Switches – Installing light switches that are accessible from a wheelchair is also important. Light switches with large toggles or push buttons are best.
Home Remodeling Tips & Articles for Your Home
Detecting Water Damage in Your Williamstown Home
After a plumbing accident or severe weather, water damage is a common occurrence, and homeowners must stay attentive so that they can identify damage early. If you spot water damage in your Williamstown home, hiring a remodeling contractor to perform water damage repairs should be on your to-do list. Addressing the source of excess water in your home quickly is necessary, and if you know what to look for [...]
How to Keep Your Home Clean During Bathroom Remodeling
You'll struggle to find a remodeling project that doesn't stir up an abundance of dust and dirt, and bathroom remodeling is no exception. However, your remodeling contractor can work with you to ensure a clean, organized space while your renovation is underway [...]